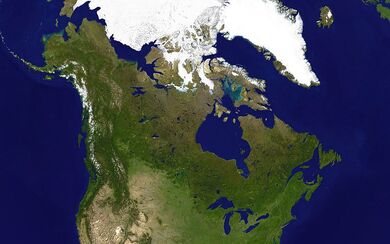 Canada is a country occupying most of northern North America, extending from the Atlantic Ocean in the east to the Pacific Ocean in the west and northward into the Arctic Ocean. It is the world's second largest country by total area, and shares land borders with the United States to the south and northwest. A federation now comprising ten provinces and three territories, Canada is a bilingual and multicultural country, with both English and French as official languages at the federal level. Technologically advanced and industrialized, Canada maintains a diversified economy that is heavily reliant upon its abundant natural resources and upon trade—particularly with the United States, with which Canada has had a long and complex relationship.

Share information about . . . Places

Where you live, work or visit, from local communities to countries, continents and the planet itself, or just somewhere you know about or are interested in.

What information might be relevant to quality of life or wellbeing in each area? What challenges or opportunities are there?

A good way to start an article is to see if there's an article about the place in Wikipedia, which you can adapt to include material relevant to sustainability. Or just build up a list of relevant links.

Projects and networks
Share information about any sustainability projects or networks you may be involved with or know about. If you're unsure what information to include, just imagine you're wanting to learn about other projects. What information would you find useful? A good example project page is Kingston Green Fair

New article - just enter the title in the box below

Projects and networks by topic please see Canada links
International rankings
Edit
References
↑ larger number indicates sustainability
Community content is available under
CC-BY-SA
unless otherwise noted.