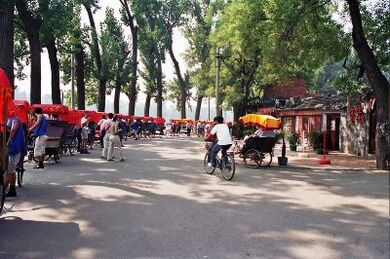 Beijing, a city in northern China (formerly spelled in English as Peking or Peiking), is the capital of the People's Republic of China (PRC). Beijing is China's second largest city in terms of population, after Shanghai. It is a major transportation hub, with dozens of railways, roads and expressways entering and leaving it in all directions. It is also the focal point of many international flights to China. Beijing is recognized as the political, educational, and cultural center of the PRC, while Shanghai and Hong Kong predominate in economic fields.
Beijing suffers from heavy pollution and poor air quality from industry and traffic. Dust from erosion of deserts in northern and northwestern China result in seasonal dust storms that plague the city. In the first four months of 2006 alone, there were no fewer than eight such storms. [1]
Beijing is blanketed in smog and hazy yellow cloud caused by the pollution from huge cheap labor run factories. The Olympics 2008 are due to be held there, and some events may have to be postponed or canceled; the athletes may have to wear masks because of the terrible air conditions, unsuitable for any length of time spent in.
1,300,000 of the city's cars have been taken from the roads for the length of the games. 300, 000 cars with high emissions have been taken out of circulation altogether. The government is building miles of urban rail tracks. They have also cut bus fares to discourage driving. Millions of trees are being planted. Dust clouds from building sites are being kept better under control. Coal-burning furnaces are being converted to natural gas in the city centre. New fuel standards have been put in place: service stations must supply petrol and diesel equivalent to the euro VI standard. This will cut the sulphur dioxide (and acid rain) by 1,840 tons according to Beijing's Environmental Protection bureau. There will be cloud seeding - chemical rockets being fired into the clouds to cause rain, which would then help clear the polluted skies.
Related topics
Edit
Beijing links
Edit
Education for Sustainable Development
China International Forum on Education for Sustainable Development - ext. link
China ESD Research Center - ext. link
CESDRRC - ext. link
Regional Centers of Expertise - (please note the following is a PDF link - unknown size - may take a long time to download depending on your connection) - ext. link
China Bell Conference - ext. link
China Development Brief - ext. link
China Circular Economy - ext. link
China Eco Industrial Parks - ext. link
China SEPA - ext. link
Community content is available under
CC-BY-SA
unless otherwise noted.