Boulder is a Home Rule Municipality that is the county seat and most populous city of Boulder County, Colorado. Boulder is the 11th most populous city in the state of Colorado. The United States Census Bureau estimates that in 2008 the population of the city of Boulder was 94,268, while the population of the Boulder Metropolitan Statistical Area was 280,420. Boulder is the home of the main campus of the University of Colorado, the state's largest university, and Naropa University, one of two accredited Buddhist-inspired universities in the United States. Located at the base of the foothills of the Rocky Mountains at an elevation of 5,430 feet (1,655 m), Boulder is 25 miles (40 km) northwest of Denver.
Topic links
Edit
The headings in this section provide links to some of the topics in the Ideas Bank. Click on the Ideas Bank link, or the category listing to see a full list of topics.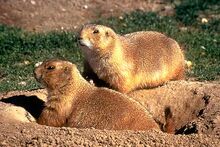 The City of Boulder has created an Urban Wildlife Management Plan which sets policies for managing and protecting urban wildlife.[1] Also, the city's parks department has a Conservation Team which monitors parks (including wetlands, lakes, etc) to protect ecosystems.[2] From time to time, parks and hiking trails are closed to conserve or restore ecosystems.[3]
Traditionally, Boulder has avoided the use of chemical pesticides W for controlling the insect population. However, with the threat of West Nile Virus W, the city began an integrative plan to control the mosquito population in 2003 that includes chemical pesticides. Residents can opt-out of the program by contacting the city and asking that their areas not be sprayed.[4]
Under Boulder law, extermination of prairie dogs W requires a permit. [5]
Also in 2005, the city experimented with using goats for weed control in environmentally sensitive areas. Goats naturally consume diffuse knapweed and Canada thistle, and although the program was not as effective as it was hoped, goats will still be considered in the future weed control projects.[6]
Cycling USA - see separate article Cycling Boulder
Outdoor Sports
Boulder is surrounded by more than 36,000 acres (149 km²) of recreational open space, conservation easements, and nature preserves[1]. There are ample opportunities for hiking, biking, running, and rock climbing. Many of the trails start at the edge of the city, while others are a short drive away. The trails vary in difficulty: some are quite easy while there are some that are technically challenging. A trail map is available online or from a variety of local retailers. The City of Boulder Open Space website is a great resource for information about outdoor activities and volunteer opportunities.
World-class rock climbing is found in nearby Eldorado Canyon, near the small unincorporated community of Eldorado Springs, six miles south of Boulder. Eldorado Canyon is a wonder of natural beauty, but it is most famous for its hundreds of world-renowned rock climbing routes. There are also high quality climbing routes available in the city open space, including climbing routes of varying difficulty on the Flatirons W themselves. Boulder Canyon, directly west of downtown Boulder, also has many good routes. All three of these areas are affected by seasonal closures for wildlife. [7] [8], [9]
Boulder is home to the Ultimate Players Association W (UPA), the governing body for the sport of Ultimate in the United States. The UPA is a player-run not-for-profit organization, founded in 1979, with over 27,300 members and hundreds of volunteers.
Transportation
Mass Transit - Boulder has an extensive bus system operated by the Regional Transportation District (RTD). The HOP, SKIP, JUMP, BOUND, DASH and STAMPEDE routes run throughout the city and connect to nearby communities on a frequent basis, with departures every ten minutes during peak hours, Monday-Friday. Other routes, such as the 201, 203, 204, 205, 206, 208, 209 and 225 depart every 15 to 30 minutes. Regional routes, traveling between nearby cities such as Longmont (BOLT, J), Golden (GS), and Denver (B/BX/DM/HX/S/T), as well as Denver International Airport (AB), are also available. There are over 100 scheduled buses that run between Boulder and Denver on weekdays. Boulder will be connected to downtown Denver with a BRT or Bus Rapid Transit route along US-36. This is being funded by FasTracks and construction is expected to begin in 2009 and to be completed in 2016. A commuter rail route is set to run through Boulder to Longmont, with the station being on the intersection of 30th and Pearl Streets. Route, schedule and fare information is available on the RTD Web site at http://www.rtd-denver.com/, or by calling their Telephone Information Center at 303-299-6000. Real time arrival information for the HOP route is available at http://www.nextbus.com. Google also offers a transit trip planner for the Boulder-Denver region at http://www.google.com/transit
Beginning in 2014, commuter rail will travel between Longmont, Boulder and Denver, with stops in major communities along the way. This commuter rail line is funded by FasTracks, a transit improvement plan funded by a 0.4% increase in the sales tax throughout the Denver metro area. RTD, the developer of FasTracks, and the City of Boulder are planning a transit-oriented development near Pearl and 33rd Streets to accommodate a Boulder Fastracks station. The development will feature the relocated Boulder Railroad Depot, which may be returned to a transit-related use.
Growth management - Government preservation of open space around Boulder began with the Congress of the United States W approving the allocation of 1,800 acres (7.3 km²) of mountain backdrop/watershed extending from South Boulder Creek to Sunshine Canyon in 1899.
Since then, Boulder has adopted a policy of controlled urban expansion. In 1959, city voters approved the "Blue Line" city-charter amendment which restricted city water service to altitudes below 5750 feet, in an effort to protect the mountain backdrop from development. In 1967, city voters approved a dedicated sales tax for the acquisition of open space in an effort to contain urban sprawl. In 1970, Boulder created a "comprehensive plan" that would dictate future zoning, transportation, and urban-planning decisions. Hoping to preserve residents' views of the mountains, in 1972, the city enacted an ordinance limiting the height of newly constructed buildings. A Historic-Preservation Code was passed in 1974, and a residential-growth management ordinance (the Danish Plan) in 1976. [10] [11]

External links
References
Community content is available under
CC-BY-SA
unless otherwise noted.