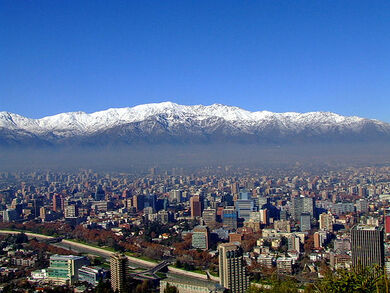 Chile, officially the Republic of Chile (Spanish: República de Chile), is a country in South America occupying a long and narrow coastal strip wedged between the Andes mountains and the Pacific Ocean. It borders Peru to the north, Bolivia to the northeast, Argentina to the east, and the Drake Passage at the country's southernmost tip. It is one of only two countries in South America that does not have a border with Brazil. The Pacific forms the country's entire western border, with a coastline that stretches over 6,435 kilometres
In Chile, where 62% of the national territory is already affected by desertification [1], blogger Alfredo Erlwein expressed concern on the blog El Ciudadano [2] (The Citizen) on how little knowledge citizens have about desertification.
Efectivamente la desertificación es el problema ambiental más grave de Chile y muy poco conocido. Existen grandes zonas, como en la costa de la octava región, donde la erosión severa supera el 50% de la superficie: esto es que literalmente más de la mitad de los suelos se ha perdido por completo. En esas zonas se encuentran cárcavas de más de 50 metros de profundidad. Una tasa normal de formación de suelo puede ser de 0.2 cm por año, lo que evidencia la gravedad del asunto.
Desertification is indeed the biggest but least known environmental problem in Chile. There are vast areas, such as the Eight Region's coast, where the severe erosion exceeds 50 percent of the surface: this means that more than half of the land has been lost, literally. In those areas there are grooves of over 50 meters of depth. A normal range of land formation is of about 0.2. centimetres per year, which proves the severity of the matter. [3]
Topic links
Edit
The headings in this section provide links to some of the topics in the Ideas Bank. Click on the Ideas Bank link, or the category listing to see a full list of topics.
Related topics
Edit
References
Community content is available under
CC-BY-SA
unless otherwise noted.