Climate change

Portal
-
video
-
links
-
feeds
-
diary
-
resources
-
images
-
cities
-
A-Z

USA - diary / UK - Europe - Australia - Canada - New Zealand - Costa Rica - Indonesia - Africa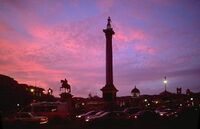 Comment
What matters is a determination to deliver decentralised energy systems, large scale renewable energy and reduce energy waste, say Greenpeace, in response to climate change command paper and Environmental Audit Committee report, October 29. [2]
FoE welcomes the Government's commitment to producing a legal framework for tackling carbon dioxide emissions, but argue the proposed Bill needs to be strengthened further, October 29 [3]
60 per cent carbon dioxide reduction can be achieved by 2025, say NLGN, October 10 [4]
Your comment
- Contribute via our
Forums
or a
comment
type article, or on any article via its talk page - click on 'talk' link at top of page
December 2007
Edit
World's leading climate scientist issues challenge to Brown - end UK moves to build new coal-fired power stations, December 14 [5]
November 2007
Edit
Climate Change Bill published, November 15. [7] According to Defra the bill includes "A new system of annual open and transparent reporting to Parliament. The Committee on Climate Change will provide an independent progress report to which the Government must respond. This will ensure the Government is held to account every year on its progress towards each five year carbon budget and the 2020 and 2050 targets."
'Rebound Effects' threaten success of UK climate policy, November 1 [9]
October 2007
Edit
Government sets out amended Climate Change Bill following consultation, October 29 [11]
I Count, the UK campaign on climate change, launches the I Count Communities Map – an online networking tool for local organisations and groups in the UK to work together on climate change issues. October 3 [12]
Ideas Bank - Climate change - Environmental wellbeing - Social wellbeing - Economic wellbeing - Transport and Planning - Local sustainability - Community involvement - Global connections - Personal options - Ideas Bank by place -

Village pump
SCA Wiki - Places, projects & networks - Ideas Bank - News - Diary - Resources - Community / Avoid adverts
References
Community content is available under
CC-BY-SA
unless otherwise noted.