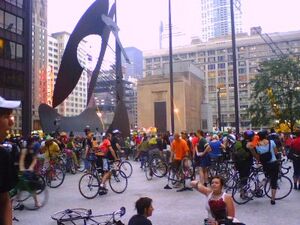 Critical Mass is a bike ride typically held on the last Friday of every month in cities around the world where bicyclists and, less frequently, skateboarders, roller bladers, roller skaters and other self-propelled commuters take to the streets en masse. Critical Mass is not led, and has no officially-stated message, though it is largely understood to be an effort to promote alternative (non-motorized) modes of transportation and to raise awareness about the safety issues that face commuters using non-motorized forms of transportation when sharing the streets with motor vehicles. Participants meet at a set location and time and enjoy the security and companionship of traveling as a group through city streets. This can cause a disruption of motorized traffic, but the general philosophy behind the ride is expressed in the widely-used slogan, "We aren't blocking traffic; we are traffic."
Critical Mass rides vary greatly in many respects, including frequency and number of participants. For example, in what have been the largest events using the name Critical Mass, cyclists in Budapest, Hungary hold only two rides each year on 22 September (International Car Free Day) and 22 April (Earth Day). They attract tens of thousands of riders. The April 22, 2006 Budapest ride participation was generally estimated at 32,000 riders.
Related topics
Edit
Community content is available under
CC-BY-SA
unless otherwise noted.