< Diary UK May 2007, Seasonal UK, > Diary UK Jul-Aug 2007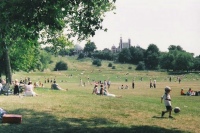 8 March 15 2007 - Government publishes Marine Bill White Paper. Defra. The Marine Bill White Paper can be found via the Defra website. The twelve week consultation period will conclude on 8 June 2007. / Natural England welcomes plans for Marine Conservation Zones. / Greenpeace response to Marine Bill.
March 23 2007 - Hosepipe ban rules to be updated, Defra. The consultation document on the proposed changes to the powers to restrict non-essential uses of water can be viewed via the Defra website. The consultation closes on 15 June 2007.
18 e-petition - to "Listen to cyclists and not approve the revised highway code." Deadline to sign up by: 18 June 2007 / Cycling UK
24 Commonwork Open Day. Commonwork is an educational charity at a 500 acre organic dairy farm in West Kent



Diary - Index - International - UK -

Village pump
SCA Wiki - Places, projects & networks - Ideas Bank - News - Diary - Resources - Community / Avoid adverts
Community content is available under
CC-BY-SA
unless otherwise noted.