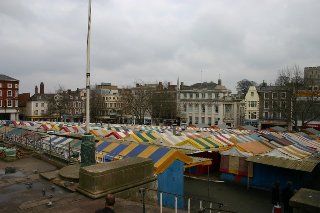 East of England is one of the nine official regions of England. The current boundaries include Essex, Hertfordshire, Bedfordshire, Cambridgeshire, Peterborough, Norfolk and Suffolk. In common usage the area may widely vary.
The East of England region shares part of its borders with London. Because of high degrees of interdependence it is arguable that neither London nor its neighbouring regions can approach sustainability in isolation.
UK regional sustainable development indicators
Edit
The percentage of household waste in the East of England which was recycled was the highest of the regions.
Burglary and vehicle crimes were amongst the lowest of the regions, as was the fear of crime.
The proportion of males of working age in employment was higher in East of England than in other regions.
Infant mortality in the region was amongst the lowest and female life expectancy amongst the highest.
Rates of suicide were lowest in the East of England.
The East of England had seen the largest increase in the proportion of local sites assessed to have unsatisfactory or poor local environment quality. / [1]

Share information about . . . Places

Where you live, work or visit, from local communities to countries, continents and the planet itself, or just somewhere you know about or are interested in.

What information might be relevant to quality of life or wellbeing in each area? What challenges or opportunities are there?

A good way to start an article is to see if there's an article about the place in Wikipedia, which you can adapt to include material relevant to sustainability. Or just build up a list of relevant links.

Projects and networks
Share information about any sustainability projects or networks you may be involved with or know about. If you're unsure what information to include, just imagine you're wanting to learn about other projects. What information would you find useful? A good example project page is Kingston Green Fair

New article - just enter the title in the box below
Related topics
Edit

Wanted pages and external links
References
↑ Department for Environment, Food and Rural Affairs, January 31 2008
Community content is available under
CC-BY-SA
unless otherwise noted.