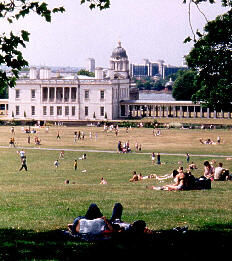 The idea of Green picnics is similar to that of Green Drinks. A regular event to meet up with like minded people, anyone interested in sustainability, low carbon living, environment, etc. but more of a relaxed social and community meet up rather than anything too business like.
Venue
Rather than a place for drinks the idea is for events in public open space, city parks, etc. These may be near to pubs or cafes if people want to combine the picnic with a visit to the pub, etc. but OK if people want to just focus on the picnic.
Timing
Over the summer months. At least once a year, at first, but maybe more than once a summer if successful.
The picnic
It's a bring and share thing. It's a challenge to think about the food and refreshments you are sharing - locally grown, grown by you, seasonal, organic, etc?
Not a green fair
Green fairs can be great! But the idea here is for something that's non-commercial. Not an event for selling stuff, marketing or over-vigorously promoting specific ideas or sectional interests.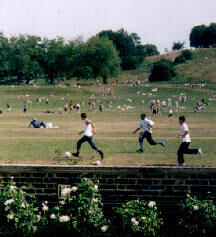 A gentle kick about? Frisbee? Game of rounders? Maybe something non-competitive?
Related Topics
External links

Ideas Bank - Climate change - Environmental wellbeing - Social wellbeing - Economic wellbeing - Transport and Planning - Local sustainability - Community involvement - Global connections - Personal options - Ideas Bank by place -
Village pump
SCA Wiki - Places, projects & networks - Ideas Bank - News - Diary - Resources - Community / Avoid adverts
This article is a stub. Someone helped by starting it, but it doesn't have much content yet. You are invited to add content.

Thank you!