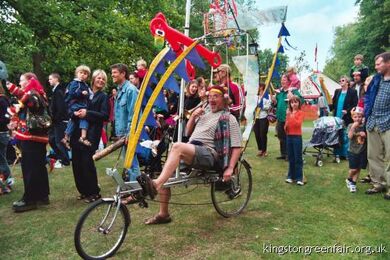 26 Bank Holiday Monday, Kingston Green Fair
More about Kingston Green Fair
Edit
The Green Fair has been in operation since 1987, attracting nearly 15,000 visitors each year. Stalls offer organic and vegetarian food; showcase technology; performance; workshops; arts & crafts; sustainability demonstrations; music; healing; dance and drama; circus skills; theatre; walkabout; cafes & cakes; community campaigns. The Fair takes place in the riverside setting of Canbury Gardens, Kingston upon Thames.
Kingston Green Fair works for
Edit
A clean and healthy environment
Peace & reconciliation
Human rights & equality
Animal welfare
Thinking globally, acting locally
and promotes sustainable technology, community empowerment, fair trade, and wide ranging environmental solutions.
Family Centred, Cultural and an information exchange
Edit
The Green Fair has an extensive children's area, is family-centred and offers cultural performances including live music, dance, drama, arts and crafts, demonstrations and activities and many forms of community consultation. The event is an important exchange and information point for thousands of local people and community groups.
Energy use
Edit
The Green Fair only uses energy and power from the wind, sun and bicycles - so no noisy generators or smell of diesel fumes.
Organisation
Edit
The Fair is organised and managed by a team of local environmental activists. It is a non-profit making event and most of the 250 organisers and workers are volunteers or share expenses. The entrance fee, together with a contribution from stall holders, covers all the costs of including the provision of toilets, marquees, performers fees, health and safety and publicity. The organisers are proud of their service to the community and thank all supporters who work so to make each Fair a success.
Networking and Partnership working
Edit
Many local charities take part, making the Fair a community networking event.. The Green Fair organisers work closely with Kingston Council and the police to make the event pleasant, safe and enjoyable for all.
Publicity
Edit
Web site. Fliers. Local papers badgered and persuaded Into printing press releases. Kingston Green Fair's reputation stretches far and wide and the fair is seen as a model for similar (green) events, fairs and festivals throughout the country and beyond.
History and timeline
Edit
The fair was started by people who were frustrated with the green apathy of the eighties and brought together groups such as Kingston friends of the earth, woodcraft folk and the Peace council. The fundamental issues of the fair such as Protection of the environment. Peace and Human Rights, have remained, to be explored , developed and re-emphasised, "To fit our ever-changing and precarious world. Always remembering the community and the fun of the fair. " The organisers are putting together a year-by-year timeline of the Fair, and are encouraging visitors to send in thoughts, memories of highlights, etc.
Related topics
Edit

External link
Community content is available under
CC-BY-SA
unless otherwise noted.