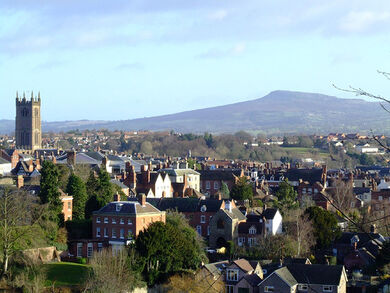 Ludlow is a market town in Shropshire, England close to the Welsh border and in the Welsh Marches. It lies within a bend of the River Teme, on its eastern bank, forming an area of 350 acres (1.4 km²) and centred on a small hill. Atop this hill is the site of Ludlow Castle and the market place. From there the streets of the medieval town slope downward to the River Teme, and northward toward the River Corve. The town is in a sheltered spot beneath the Clee Hills which are clearly visible from the town. With a population of around 10,000, Ludlow is the largest town in the South Shropshire district and home of the district council headquarters. Ludlow has nearly 500 listed buildings.
In 2004 the council was granted funding from Advantage West Midlands to build a new Eco-Park on the outskirts of the town on the other side of the A49, with space for new 'environmentally friendly' office buildings and a park & ride facility.
Topic links
The headings in this section provide links to some of the topics in the Ideas Bank. Click on the Ideas Bank link, or the category listing to see a full list of topics.
Ludlow is the first UK member of Cittaslow or "slow food" movement, and is at the forefront of the UK's Cittaslow network.
Ludlow supports a regular farmers market as well as three traditional butchers and a range of specialist food shops.
The annual Ludlow Marches Festival of Food & Drink is a food festival that takes place in and around Ludlow in September. Centred on Ludlow Castle, where over 150 local, small food producers showcase and sell their wares, the three-day event involves the town centre in food and drink trails.
Community content is available under
CC-BY-SA
unless otherwise noted.