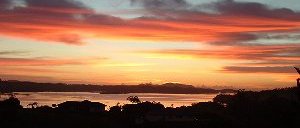 New Zealand, current population about 4.2 million, was among the earliest members of the United Nations.
It has been prominent in moves to protect the Earth, including having a Cabinet Minister sailing on a ship into the French nuclear testing zone in protest against the testing. The French Government later sent to New Zealand a team of spies, who fatally blew up a Greenpeace ship in Auckland.
It is proud of its "clean, green" image but most New Zealanders concede that it's not perfect.

Share information about . . . Places

Where you live, work or visit, from local communities to countries, continents and the planet itself, or just somewhere you know about or are interested in.

What information might be relevant to quality of life or wellbeing in each area? What challenges or opportunities are there?

A good way to start an article is to see if there's an article about the place in Wikipedia, which you can adapt to include material relevant to sustainability. Or just build up a list of relevant links.

Projects and networks
Share information about any sustainability projects or networks you may be involved with or know about. If you're unsure what information to include, just imagine you're wanting to learn about other projects. What information would you find useful? A good example project page is Kingston Green Fair

New article - just enter the title in the box below
Leading environmental country
Edit
NZ leads world in environmental performance - study
An international report has rated New Zealand as leading the world in environmental performance.
The 2006 Environmental Environment Index, a pilot nation-by-nation study jointly produced by Yale and Columbia Universities, showed six nations - led by New Zealand, followed by five from Northern Europe - have achieved 85 per cent or better success in meeting critical environment goals ranging from low ozone levels, to clean drinking water, low greenhouse gas emissions and sustainable fisheries.
- NZPA, 24 Jan 2006
Food miles
Edit
Some European organisations are labelling New Zealand produce to show that it has come a long way and therefore cost the world more in carbon emissions.
Counterproductive for some consumers - some look at the sticker indicating air travel and think it must be fresher.
Facts, however, may have got in the way of a good story. Trucking olives from southern Italy to England has a huge carbon cost. Not to mention the overall carbon costs involved at previous stages of production.

Wanted pages and external links

Projects and networks by topic please see New Zealand links
Related Wikipedia content
Edit
Environment and Conservation Organisations of Aotearoa New Zealand W
Community content is available under
CC-BY-SA
unless otherwise noted.