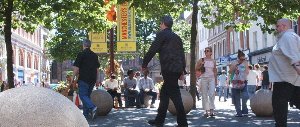 North West England is one of the regions of England. Two large conurbations, centred on the cities of Liverpool and Manchester, dominate the south of the region. The north of the region (that is, north Lancashire and Cumbria) is largely rural. This has caused questions to be asked whether the region should be altered so that Cumbria is transferred to the North East region (creating a new North region of England), as currently there are stark contrasts within the North West region.
UK regional sustainable development indicators
Edit
Woodland bird populations in the North West had increased by more than in other regions. *The proportion of children in low income households decreased by the largest proportion in the North West and the proportion of households experiencing fuel poverty also saw the largest decrease.
The North West had the highest level of household waste produced per person.
Productivity (gross value added per workforce job) in the North West was amongst the lowest of the regions.
The mortality rate for cancer in the North West was amongst the highest of the regions. *The proportion of households perceiving difficulties in getting to a post office without a car was amongst the highest of the regions. / [1]

Share information about . . . Places

Where you live, work or visit, from local communities to countries, continents and the planet itself, or just somewhere you know about or are interested in.

What information might be relevant to quality of life or wellbeing in each area? What challenges or opportunities are there?

A good way to start an article is to see if there's an article about the place in Wikipedia, which you can adapt to include material relevant to sustainability. Or just build up a list of relevant links.

Projects and networks
Share information about any sustainability projects or networks you may be involved with or know about. If you're unsure what information to include, just imagine you're wanting to learn about other projects. What information would you find useful? A good example project page is Kingston Green Fair

New article - just enter the title in the box below
| | |
| --- | --- |
| | North West England |

Wanted pages and external links
References
↑ Department for Environment, Food and Rural Affairs, January 31 2008
Community content is available under
CC-BY-SA
unless otherwise noted.