---
Nottingham is a medium-sized city in the East Midlands of England. More information is available in the Wikipedia entry.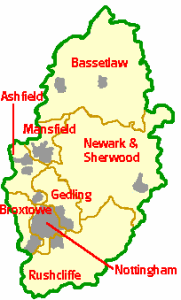 For the purposes of this site "Nottingham" is not defined strictly, but is basically the conurbation and some degree of surrounding area. If something appears to fit that, by all means add it in.

It's important to make the distinction because geographical Nottingham includes parts of several local council areas, and one of them is also called "Nottingham". This can lead to confusion, and the latter is often referred to as "Nottingham City" to distinguish. It's particularly an issue when people from local authorities and other public sector organisations who are used to thinking in terms of local authority boundaries meet other people who are not.

The local authority areas covered are Broxtowe, Gedling, Nottingham City and Rushcliffe, and possibly parts of Ashfield.
Petitions
Edit
Topic links
Edit
The headings in this section provide links to some of the topics in the Ideas Bank. Click on the Ideas Bank link, or the category listing to see a full list of topics.
Campaigns against incineration
Nottingham has been granted Fairtrade City status.

Places, projects and networks -

Portal - UK - USA - Australia - New Zealand - Europe - North America - South America - Oceania - Asia - Africa / Campaigns - Building networks -

Village pump
SCA Wiki - Places, projects & networks - Ideas Bank - News - Diary - Resources - Community / Avoid adverts
References
Community content is available under
CC-BY-SA
unless otherwise noted.