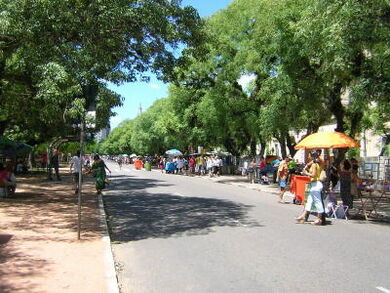 "Another world is not only possible, she is on her way. On a quiet day, I can hear her breathing."
Arundhati Roy, Porto Alegre, Brazil, January 27, 2003

Porto Alegre (lit. "Joyous Port"), one of the largest cities in Brazil, is the capital city of Rio Grande do Sul. Porto Alegre is the most important city of Southern Brazil, consisting of a cultural, political and economical center. Porto Alegre held the best standard of living among all Brazilian capitals for many years.
Participatory budgeting in Porto Alegre and Brazil
Edit
The first full participatory budgeting process developed in the city of Porto Alegre, Brazil, starting in 1989. Participatory budgeting in Porto Alegre is an annual process of deliberation and decision-making, in which thousands of city residents decide how to allocate part of the municipal budget. In a series of neighbourhood, regional, and citywide assemblies, residents and elected budget delegates identify spending priorities and vote on which priorities to implement.
Many scholars (e.g. Rebecca Abers, Gianpaolo Baiocchi, Leonardo Avritzer) have studied the impact of Participatory Budgeting both on government spending, allocation of resources and target areas. They have found that was a trend towards spending more in less favoured neighborhoods, inhabited by lower income families.
Friends and Advocates of a Street Full of Trees
Edit
The Amigos da Rua Gonçalo de Carvalho's blog (Friends of Gonçalo Carvalho Street) [pt] explains how a group of people in Porto Alegre, Brazil, mobilized an advocacy campaign against the plan for a new development construction in that street. Gonçalo de Carvalho Street is nowadays considered historical, cultural, ecological and environmental heritage.[1]

External links
References
↑ globalvoicesonline.org, Sara Moreira, 22 April 2011
Community content is available under
CC-BY-SA
unless otherwise noted.