The idea of these pages is fairly simple - to build up a collection of 'random' facts - not really random, something to do with sustainability or the need for it, or similar related facts. The collection is used to stock today's random fact on our home page. Remember of course to include the source. Within the sections please put most recent edits at the top. See also Category:Articles with random facts
A - B -- C - D -- E - H -- I - M -- N - R -- S - T -- U - Z
In Asia the lives of some 2.4 billion people - 40 per cent of the current global population - are influenced by the summer meltwaters of glaciers in the Himalayas-Hindu Kush, Kunlun Shan, Pamir and Tien Shanan mountain regions. Source: UN Environment Programme, June 4 2007
Aviation and climate change
Edit
Aviation emissions are estimated to have between two and four times the climate change impact of carbon emissions alone due to complex chemical reactions at altitude.
Carbon emissions from UK aviation increased by 11 per cent in 2004 alone.
Source: Friends of the Earth
Ban incandescent light bulbs
Edit
Using Government figures, Greenpeace has calculated that the UK could save 5.1 million tones of CO2 per year by banning incandescent light bulbs - the equivalent emissions of the 26 lowest emitting countries combined - and enough energy to close one large sized power station. Source: Greenpeace, December 6 2007 Climate change UK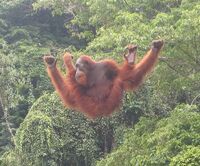 The great apes are the closest living relatives to man, bonobos sharing 98.4 per cent of our DNA, gorillas 97.7 per cent and orang-utans 96.4 per cent. Source: Defra
Recorders' observations confirmed last year that ladybirds and butterflies are waking up three weeks earlier compared to 30 years ago, swifts arrive around a week earlier and one species of bumblebee is active now all the year round. The hawthorn, which is also known as the Mayflower and traditionally linked to late spring, is often spotted flowering in March - all as a result of climate change. Source: The Woodland Trust, January 2007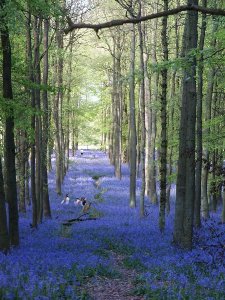 The UK's bluebell woodlands represent 20 per cent of bluebells worldwide. Wildlife trusts
A - B -- C - D -- E - H -- I - M -- N - R -- S - T -- U - Z

Resources - Portal - Inspiring quotes - Images - Village cinema - Random facts - Sustpedia - Department of FUN! -

Village pump
SCA Wiki - Places, projects & networks - Ideas Bank - News - Diary - Resources - Community / Avoid adverts
Community content is available under
CC-BY-SA
unless otherwise noted.