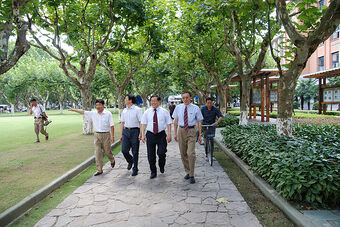 Tongji University, colloquially known as Tongji, located in the northeast part of the Shanghai city, has more than 70,000 students and 8,008 staff members (1 September 2007).
It is one of six universities to become the first academic institutions to come on board the United Nations Environment Programme's Climate Neutral Network (CN Net)
Tongji University was established in 1907 and is one of the oldest leading universities in China, operating under the State Ministry of Education. It offers degree programs both at undergraduate and postgraduate levels, including a School of Environmental Science and Engineering and an Institute of Environment for Sustainable Development, which was created in partnership with UNEP. The name Tongji signifies "cooperating by riding the same boat." Tongji University certainly understands that we are all part of a global "boat" that needs to deal with the rising tide of climate change and Tongji has begun developing green technologies. The Tongji Fuel Cell Vehicle Engineering Center helped develop fuel cell vehicles, which are now being tested in a six-month road testing in California. Principals of Tongji Fuel Cell Vehicle Engineering Center have expressed that this was the first time for China's fuel cell vehicles to participate in international demonstrations. These fuel cell-powered sedans can reach 150 miles per hour and cover up to 300 miles after one Hydrogen charging. Tongji University also uses solar energy, reuses water, and has energy-saving technologies. In the Wenyuan Building, the university does not only maintain the historical features of the building, but also builds the concept of eco-building by using technologies such as geo-heat pumps, thermal insulation systems, rainwater collection and recycling systems. [1]
External links

Places, projects and networks -

Portal - UK - USA - Australia - New Zealand - Europe - North America - South America - Oceania - Asia - Africa / Campaigns - Building networks -
Village pump
SCA Wiki - Places, projects & networks - Ideas Bank - News - Diary - Resources - Community / Avoid adverts
This article is a stub. Someone helped by starting it, but it doesn't have much content yet. You are invited to add content.

Thank you!
References