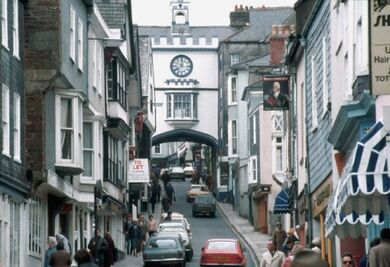 "Every town is a transition town because we are on a transitioning planet," Paul Hawken, axiomnews.ca / Inspiring Quotes

Transition Towns is a movement that was founded in Kinsale, Ireland and Totnes, England by environmentalist Rob Hopkins during 2005 and 2006.[1] The aim of the project is to equip communities for the dual challenges of climate change and peak oil. The movement currently has member communities in a number of countries worldwide.
Comment
Dunedin City Long Term Council Community Plan. A few of us have collected some ideas to submit to the Dunedin City Council Long Term Plan: For each idea, we have made a list of some of the positive and negative social, cultural, economic, and environmental effects. Please feel free to comment and/or add to this list! April 8, 2009 Transition Towns New Zealand Aotearoa, April 8, 2009
"Strengths, Weakness, Opportunities and Threats (SWOT) Analysis. I think a big part of Transition is planning for the future we would like to see. It was suggested on the google group that rather than just focussing on the doom, we should be using that information to develop positive strategies..." February 18 2009, Transition Towns New Zealand Aotearoa, February 18 2009
"Since our local agenda most likely will not contribute sufficiently to the problem of run-away climate change, the question is whether we - as the TT movement - should "join forces" with other forces in society." Jan, Transition Towns New Zealand Aotearoa, January 20 2009
Your comment
- Contribute via our
Forums
or a
comment
type article, or on any article via its talk page - click on 'talk' link at top of page
The Transition concept emerged from work permaculture designer Rob Hopkins had done with the students of Kinsale Further Education College in writing an "Energy Descent Action Plan". This looked at across-the-board creative adaptations in the realms of energy production, health, education, economy and agriculture as a "road map" to a sustainable future for the town. One of his students, Louise Rooney, set about developing the Transition Towns concept and presented it to Kinsale Town Council resulting in the historic decision by Councillors to adopt the plan and work towards energy independence.
The idea was adapted and expanded in September 2006 to Hopkins' hometown of Totnes where he is now based. The initiative spread quickly, and as of 25 April 2008, there were over fifty communities recognised as official Transition Towns[5] in the United Kingdom, Ireland, Australia, and New Zealand. While referred to as Towns, the communities involved range from villages (Kinsale), through council districts (Penwith) to cities and city boroughs (Brixton).
Features of the project
Edit
The main aim of the project generally, and echoed by the Towns locally, is to raise awareness of sustainable living and build local resilience in the near future. Communities are encouraged to seek out methods for reducing energy usage as well as increasing their own self reliance — a slogan of the movement is "Food feet, not food miles!". Initiatives so far have included creating community gardens to grow food; business waste exchange, which seeks to match the waste of one industry with another industry that uses this waste; and even simply repairing old items rather than throwing them away.[6]
While the focus and aims remain the same, the methods used to achieve these vary. For example, Totnes has introduced its own local currency, the Totnes pound, which is redeemable in local shops and businesses helping to reduce food miles while also supporting local firms.[7] This idea is also planned to be introduced in three Welsh Transition Towns.[8]
Central to the Transition Town movement is the idea that a life without oil could in fact be far more enjoyable and fulfulling than the present "by shifting our mind-set we can actually recognise the coming post-cheap oil era as an opportunity rather than a threat, and design the future low carbon age to be thriving, resilient and abundant – somewhere much better to live than our current alienated consumer culture based on greed, war and the myth of perpetual growth." [9]
Future of the project
Edit
The number of communities involved in the project is ever increasing with many localities in the process of becoming "official" transition towns.[10][11] Transition towns has even featured in the plot line of the long-running BBC Radio 4 series The Archers,[12] which illustrates the media attention and rapid growth the movement is generating.
Transition towns South East England shows an example. Maps can be embedded in any SCA wiki page to show locations using Google maps.
Wanted pages and external links
Transition Towns

Portal
-
newsfeeds
-
resources
-
images
-
video
-
maps
-
co2calculator
-
A-Z

UK
-
Austria
-
Belgium
-
Finland
-
Germany
-
Hungary
-
Ireland
-
Italy
-
Netherlands
-
Portugal
-
Europe
-
USA
-
Canada
-
Australia
-
New Zealand
-
Japan
-
Nigeria
-
South Africa
/
French
References
Community content is available under
CC-BY-SA
unless otherwise noted.