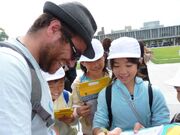 How the idea came about
In 2010 we (Paul & Karen) quit our jobs, sold the house/car/cat (maybe not the cat) and decided to follow one of our dreams and travel the world.
Our main aim was to travel from London to Tokyo without using any planes. (We pulled it off!) Originally the trip was meant to last a year but 6 months into the trip it became apparent that 1 year was nowhere near enough. So we halved our budget and managed to extend our trip to 18 months.
One of our biggest wishes was to do some volunteering work whilst on the road. Now like most backpackers our funds were pretty limited and we could not afford to pay the hundreds of pounds worth of fees that most volunteering websites were asking for. Eventually after a lot of digging we managed to find some great opportunities in Malaysia, Thailand & Australia which were also free. We absolutely loved volunteering, it was THE major highlight of our trip bringing us experiences that we would never have had. And so, one fine day, on a beautiful empty beach in Thailand (they still exist!) we started thinking about how we could make this kind of volunteering more accessible to others and lo and behold the idea for globalhelpswap was born.
Our Mission
Our mission is to enable a different kind of travel and create a sense of community all around the world.
Why we do it?
To us, helping others is the key to life. Whether it's helping an old lady cross the road to building a school in rural Africa, ALL of it matters. The ironic thing is that whenever we take time to help a fellow human being, no matter how big or small our contribution, we always end up feeling better about ourselves.
We believe that by sharing our skills, knowledge and time we can make the world a much warmer place whether we are travelling or living in our own community.
"It is one of the most beautiful compensations of life, that no man can sincerely try to help another without helping himself."
How you can help
We offer this service for free as we want as many people as possible to have access to volunteering opportunities. We completely rely on our community to keep the website up and running, and so we would appreciate a donation to help us keep this project going.
As a volunteer, when you make a donation your profile will be verified. This tells hosts that you are supporting globalhelpswap and gives you preference over non-verified profiles.
No matter how big or small EVERY donation will help to make a difference.
Edit
My favorite pages
Edit
www.globalhelpswap.com
www.the1bigthing.com
Favorite page #3
Community content is available under
CC-BY-SA
unless otherwise noted.