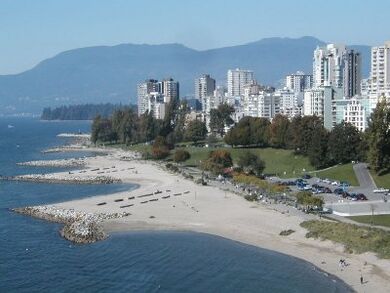 Vancouver is a city in southwestern British Columbia, Canada. Vancouver is part of the Greater Vancouver Regional District metropolitan area. With a population of 2,208,300 (2005 estimate), it is the largest metropolitan area in western Canada and the third largest in the country. The population of Vancouver proper is close to 600,000. Vancouver has a very ethnically diverse population: more than half of its residents have a mother tongue other than English. The city is growing rapidly, and the metropolitan population is projected to reach 2.6 million by 2020.
Vancouver is consistently ranked one of the three most livable cities in the world.

Projects and networks by topic please see Vancouver links
March 29 2008 Earth Hour - Vancouver is a participating city
Places, projects and networks -

Portal - UK - USA - Australia - New Zealand - Europe - North America - South America - Oceania - Asia - Africa / Campaigns - Building networks -

Village pump
SCA Wiki - Places, projects & networks - Ideas Bank - News - Diary - Resources - Community / Avoid adverts
Community content is available under
CC-BY-SA
unless otherwise noted.