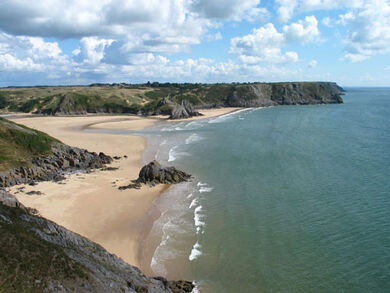 Wales (Welsh: Cymru; pronounced approximately KUM-ree) is a country in northwest Europe, one of the four constituent countries of the United Kingdom. Wales is located in the south-west of Great Britain and is bordered by England to the east, the Bristol Channel (Môr Hafren) to the south and the Irish Sea (Môr Iwerddon) to the west and north, and also by the estuary of the River Dee (Afon Dyfrdwy) in the north-east.
From the 19th century on, parts of Wales became heavily industrialised, exporting vast quantities of coal and steel and establishing a large manufacturing base which has only recently been overtaken by the service sector.
Two thirds of the population of Wales live in the valleys and coastal plain of the south, with a further significant population concentration in the north east. The remaining areas in Mid Wales, the south west and west are predominantly rural and characterised by hilly and mountainous terrain.

Share information about . . . Places

Where you live, work or visit, from local communities to countries, continents and the planet itself, or just somewhere you know about or are interested in.

What information might be relevant to quality of life or wellbeing in each area? What challenges or opportunities are there?

A good way to start an article is to see if there's an article about the place in Wikipedia, which you can adapt to include material relevant to sustainability. Or just build up a list of relevant links.

Projects and networks
Share information about any sustainability projects or networks you may be involved with or know about. If you're unsure what information to include, just imagine you're wanting to learn about other projects. What information would you find useful? A good example project page is Kingston Green Fair

New article - just enter the title in the box below
Wanted pages and external links
Related topics
Edit
Community content is available under
CC-BY-SA
unless otherwise noted.