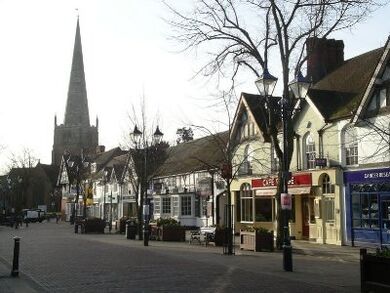 The West Midlands is an official Region of England, covering the western half of the area traditionally known as the Midlands. It contains the second largest British city, Birmingham, and the larger West Midlands conurbation, which includes the city of Wolverhampton and large towns of Dudley, Solihull, Walsall and West Bromwich. The city of Coventry is also located within the West Midlands county, but is separated from the conurbation to the west by a section of green belt.
The region is geographically diverse, from the urban central areas of the conurbation to the rural western counties of Shropshire and Herefordshire which border Wales. The longest river in the country, the River Severn, traverses the region south-eastwards, flowing through the county towns of Shrewsbury and Worcester, and the Ironbridge Gorge, a UNESCO World Heritage Site. The region also encompasses five Areas of Outstanding Natural Beauty and one National Park.
UK regional sustainable development indicators

Share information about . . . Places

Where you live, work or visit, from local communities to countries, continents and the planet itself, or just somewhere you know about or are interested in.

What information might be relevant to quality of life or wellbeing in each area? What challenges or opportunities are there?

A good way to start an article is to see if there's an article about the place in Wikipedia, which you can adapt to include material relevant to sustainability. Or just build up a list of relevant links.

Projects and networks
Share information about any sustainability projects or networks you may be involved with or know about. If you're unsure what information to include, just imagine you're wanting to learn about other projects. What information would you find useful? A good example project page is Kingston Green Fair

New article - just enter the title in the box below <createbox> bgcolor=#00CED1 width=38 break=no buttonlabel=Create new article </createbox>
The West Midlands recycled the highest proportion of total waste arising from construction and demolition, industrial and commercial and municipal waste.
The proportion of adults who smoked was amongst the lowest of the regions.
The region had seen the largest increase in the proportion of 19 year olds attaining level 2 qualifications.
The West Midlands had the highest rate of infant mortality of the regions and the proportion of trips to school made by car was the highest of the regions. / [1]
Wanted pages
References